Hockey Roadshows Continuing
May 2, 2022

Over the last few years, the Hockey Victoria Roadshows program has enabled the Geelong Hockey Association and its clubs to provide children in the Geelong area with a taste of hockey with practical classes conducted in local primary schools. As hockey is a minor sport and often not familiar to many families, the sessions conducted during class time at the school provide an introduction to hockey, which we hope will tempt children to explore our sport further.

The Hockey Victoria Roadshow program has a limited program time, which may not suit the curriculum or schedule of all schools. In an effort to reach more schools and students, the Geelong Hockey Association is offering an additional program of Roadshows following on from the Hockey Victoria program. The GHA Roadshows in 2021 and again in 2022 are supported by funds provided by Viva Energy.

The 2022 Hockey Victoria Roadshow program provided hockey sessions in 12 primary schools over a 3 week period in February and March. Over 1900 students participated in these sessions, led by 8 local coaches.

The Roadshows were followed by Hookin2Hockey programs conducted in Corio, Newtown, Teesdale and Torquay. 61 children registered for Hookin2Hockey through these programs, slightly more than the 57 registrations seen for the whole year in 2021. This is a very promising start on the way to our goal of 100 Hin2H registrations for 2022. Even more pleasing is the figure of 40 children who have continued on to join a club and a team and play hockey each week.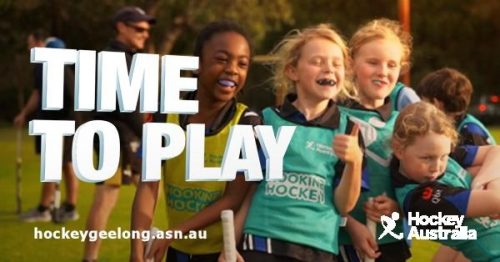 Phase 2 Hockey Roadshows
The second round of Hockey Roadshows conducted by Geelong Hockey Association is about to start in local primary schools. We have requests from 30 more schools who would like to host a hockey program for their students. The Roadshow sessions are provided to the school free of charge, with all equipment supplied.
Over the next two months we will be visiting the following schools:
Drysdale Primary School
East Geelong Primary School
Hamlyn View School
Highton Primary School
St Aloysius Primary School
St Leonards Primary School
St Margaret's School
St Mary's Primary School
Tate St Primary School
Volunteers Wanted
This amazing response from schools however means that we are looking for lots of volunteers to help coach the school sessions. Coaching experience is not essential, but volunteers must have a current Working with Children Check, and have received 3 COVID vaccinations.
Thanks to the support of Viva Energy Australia, there is some funding available to reimburse costs for the coaches who lead the sessions.
If you think you may be able to help, we would love to hear from you. Check out the details of school programs here……
Enquiries:   Claire Barnes ph 0417 015130 or Peter Stuart ph 0417 280118.